Tags
a london girl, a true Londoner, barbara windsor the Lady from the eastend, carry on camping, carry on films, carry on up the empire, celebrity story, eastenders, everyonr can build a castle, my weekly inspiring stories, petticoat lane market, porridge, sid james, televison, the lady from the east end, the life of barbara windsor, the life of barbara windsor the lady from the east end, uncle bark
About The Gorgeous Barbara Windsor
Hello and welcome! So each week I am going to write about inspiring people and the one person I would like to talk about is Barbara Windsor, who was in all the Carry on Films, did many stage plays and pantos, and just as I wrote this blog, it came into my head and i remember I did see her in real life, where she played the Fairy in the Panto favourite, Dick Whittington. This was on at the Lyric Theatre in Hammersmith.
There has been many things I have forgotten and that was one of them. It was the same one where I saw Sue Pollard and Burnie Winters, and the ladies who organized and put together Girl Night on our estate got the tickets to take us to see it.
Uncle Bark loved her and wanted her to be in porridge and play his daughter or wife, but it never happened that way, and Sid James was a bit of a geezer fell for her instantly but felt she was to good for him and said she should be with a nice young man, not someone like him. They didn't have a love affair but played alongside the press to make out they did.
Check out this article about her in the Guardian:
https://www.theguardian.com/tv-and-radio/2020/dec/12/barbara-windsor-a-working-class-hero-who-became-a-legend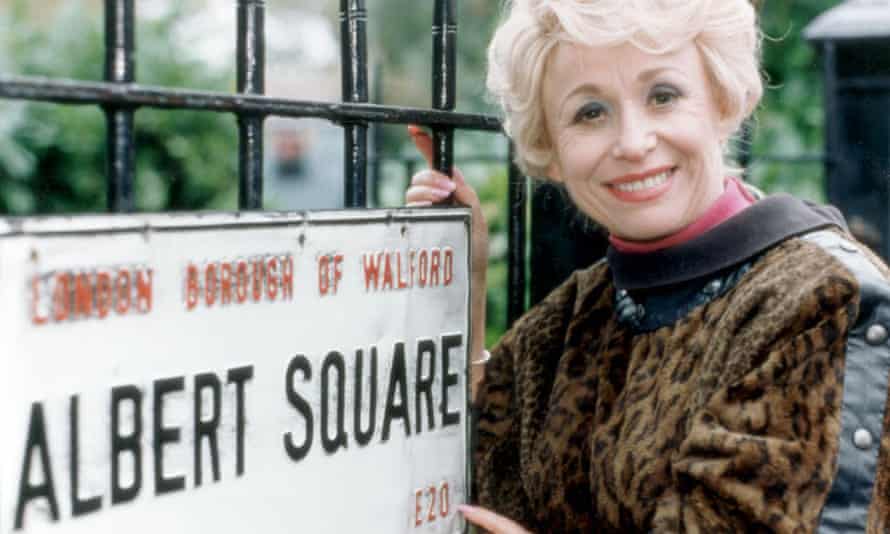 Sid James saw Lady Barbara as a little sister and would have never used her, as he was a very private guy and loved his wife to bits and so kept her to himself as she wished. He honoured women and never abused any that came in contact with him.
They were really good friends and he took her under his wing and made sure noone harmed her in anyway. Sid James could be the nicest guy in town but if you pissed him off, he would be a typical Londoner and thump then without a second thought.
Barbara Windsor as Peggy was her, as she was like me, petite, a good pair of breasts and sweet if we knew you to be nice but can turn if she came in contact with an arsehole, and never would have worked with people who were like that. She respected people who loved her work and loved her fans, and liked those who respected people like she did too, and sadly she died in a Care Home, which she never wanted.
I know we have seen her boobs, and she laughs because if that had been herself she would have never done any of that, but actors like Barbara would instantly go into their charactor to help give them the confidence to do that kind of bravodo.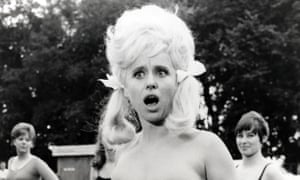 Barbara had acted since she was a child and was in adverts to begin with. Her mum wanted her to act, but her father never. You see I wish to make it on TV too, but I have the same story, because someone has been stopping me and I won't say who, but they know who they are.
She was determined to create her dream into reality, and so when her parents split her mum who looked after her, but her dad still had his way, but he was arrested for fraud, as he allowed her to be famous as long as he got her wage not her.
It is tough when your guardians who should be on the same page go against each other and don't want the best for you. I have learned this year, that there are a lot of selfish people out there, and should be left behind.
Her first Carry on she did, was Carry on the Empire, but this was never released as it was seen to be too rauchy. Had her dad intervene? only she would know, she could have been sewed as one character was going to send up her father, along the producers and writers who made those films.
They didn't want to be put in the newspapers as too dirty for TV, so they scraped it and made a new one.
They had to scrap, Carry on the Empire, when they were on the last days of filming and a telegram was sent to the Director or producer and it was never released. Carry on films never took 2 minutes to make, some would take up an entire summer and they never had the technology we had back then, and the stunts you see in these films were done in one take usually and and it was better to film in good sunny weather or warm, rather than cold, but Carry on Camping was as you see it a muddy field.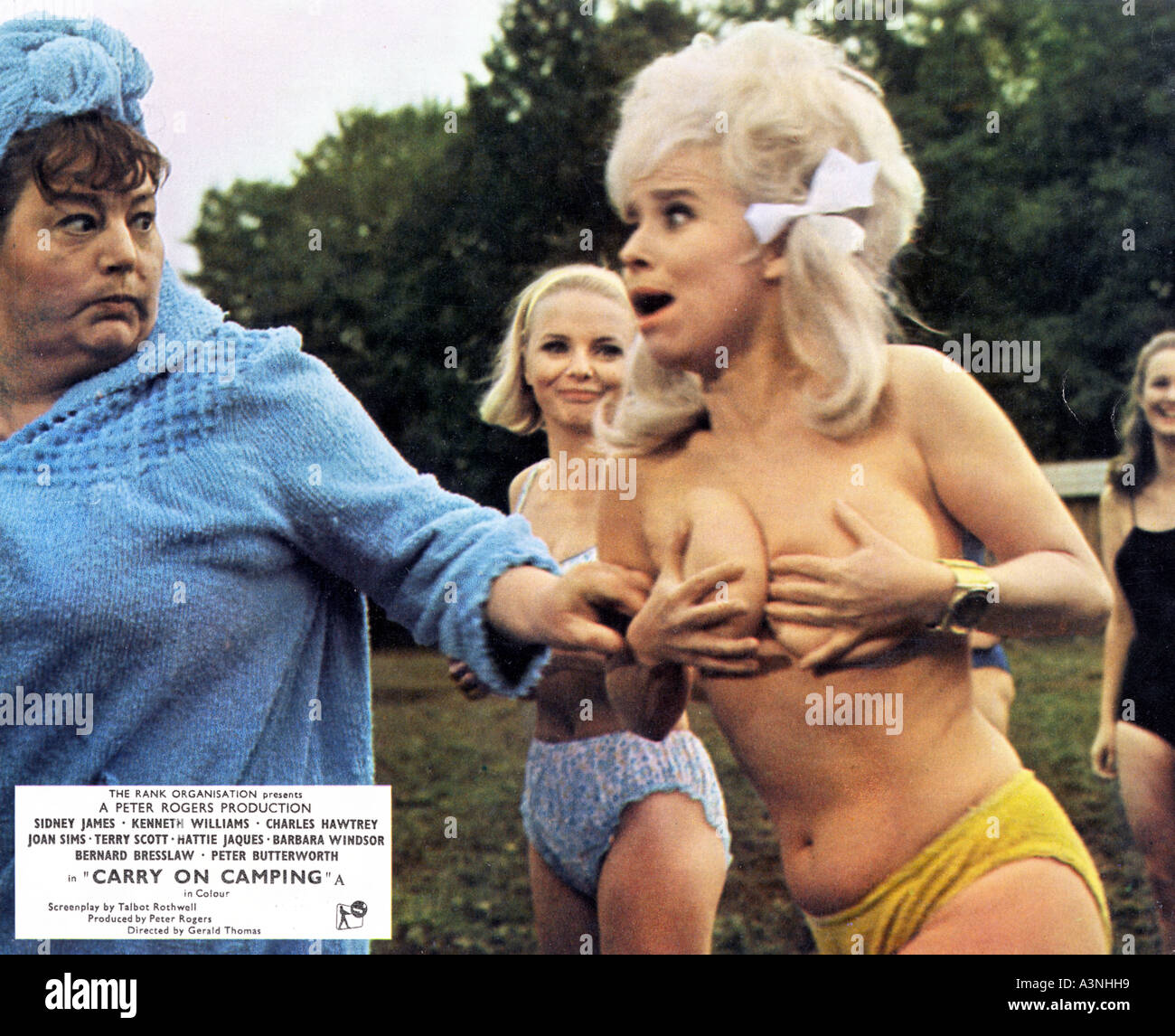 It never stopped raining but had to go with it, as it made the film real life like as that is typical English weather.
The first carry on film was in 1964 and was approved by the TV Broadcasting film directors of the BBC. They were on at picture houses, which are now called Cinemas, but any british films had to be approved by these board of TV Directors and didn't like a lot of nudity or anything seen as graphic.
Yet there had been a change of personnel, who did like this film and so it was able to be completed and watched at every cinema in London and then the rest of the UK.
Barbara was a thorough bred, she was a Londoner through and through, and even the Queen loved and adored her. She was adored by so many because even I saw her again in Bayswater, she had this multicoloured all in one body suit, and I regret saying this but I did, and that "My mum looked better than her". I am sorry Barbara, I don't even know where that came from, looking back you do see things very differently, but no Barbara you were a household name and a model sometimes, for a reason, as she liked her privacy too, and was very aware of what some of her picture attracted and didn't want to be seen turning towards the bad side of fame, in anyway, and was naturally beautiful, and dressed as a Londoner who's life had changed, and dressed as if she was still in the 60's.
The eastend girl loved her Pie 'n' mash and visiting Petticoat Lane market, and you wouldn't believe it, but many of her clothes and items she bought were from the market and rarely wore designer. Accasionally it would be High street, and she did like to have the designer treat once or twice a year, but like me she liked Market products because back when markets were around it wasn't knocked off goods, they were handmade and a one off.
A famous costume of mine that I were when holidaying in Clacton, came from a market stall down North end road and was when I first met my new love Lee. So you see, "Once you are a Londoner, you'll always be a Londoner and a market isn't a market if it doesn't have a fruit and veg stall, odds and sods, and glad rags".
Barbara did have a house in Chelsea too and would live there too when she would be doing Panto's and plays in London, and not far from where I spent a lot of my childhood and where my family are from, as my family are mainly from the South West of London, but she liked looking in the shops down the Kings Road, Chelsea.
The East Londoner, did receive a honoury award for her work on Televsision and being Peggy Mitchel, which relaunched her career and had the catchphrase "Get out of my pub" which me and my friends at the rugby would reinact.
The one thing most people don't know about Eastenders they are home grown actors and mostly have come from the Eastend or the Southwest, but you'll rarely see appart from once an actor from up north being a Londoner, if they did speak Northen England Language that was real, and so are the Londoners in it. Every cast member is a true Londoner and that is why it stands out, the same as Coronation Street, who are true Northeners and are competition, but they stand out from the others.
I have stopped watching Eastenders now, but there was a time where I did watch it religiously, but some topics are a bit too close to home, and so staying clear of it. However, it is a long running soap opera and continues to grow along with the cast, but yes if you wondered that, then that is true and you will never see a non Londoner doing a London accent as soap writers like to keep it pure as possible, hence why Barbara Windsor loved it so much.
Barbara Windsor was a true Londoner who never changed but grew as we all grew up, and even if you didn't know her, you always felt you did.
Here is a video of some images and highlights of her life, in an ITV tribute:
She will be missed, and it is sad that her life has ended as I think she would have still liked to be remembered not for having Demita but for her effortless acting and the smile that lit up the room, and made you feel welcomed and if you had known her for years.
As Uncle Bark used to say "A lady isn't a lady who wines and dines all of the time, where frilly frocks, but someone who can be femine and masculine at the same time, yet still turn people heads wherever they go".
Barbara, there is a G and T waiting for you, and tell Uncle Bark to use his own jokes not mine. So Goodnight from him and Goodnight to her, as we raise the curtains in our hearts forever more.
Here is one of Barbara Windsors songs and I sang as a kid, as I always knew I'd end up in Wimbledon as there was a Prince and is one around the corner. Barbara did have a good man in her life, but kept him a secret and he never got to say these last words to her "Thanks you my treasure the love heart you gave to me, if you isee you bursting I'll take you to have a Pee, and when you fall I will lift you up, and when someone stabs you in the back I'll raise a sword to their heads and say don't over step the mark you tramp, she's my bird not yours, so get up and move on your bore. She is mine and one day when we meet it will be the best drink she's ever had. God bless you, my Barbara, my treasure forever more".
I love people like Barbara Windsor, as she was so real and loved the fame that came with her acting career and never shyed away from anyone and made everyone feel comfortable and as if she was your mum,too. Merry Christmas Barbara and I will be having my Snowball this year so cheers.
So I suppose you wondering if I had met her or not?
Some may question, and I want you to tell me if I am lieing or not. I love this show, and so did Barbara, but never got the chance so I am playing would I lie to you, through my blog, for her, let me say this to help you if I knew her, Does a bear shit in the woods?
Many thanks for reading,
Carrie (L.M) X